Business travel demand has picked up steadily after the pandemic, leading to companies having more expense claims to process than ever before.
While the rise in business travel demand may signal that your employees are getting more productive, it is also worth noting that that means more work for your finance team and management.
Employees on the move may send lengthy email threads, excel sheets, and receipts, asking for reimbursement. Eventually, the company may find that it is taking weeks to process a single request due to how tedious it is to manage business travel expenses manually.
To avoid getting into that situation, companies need to be proactive in adopting a mobile-based expense reporting solution.
Here are all the benefits associated with using an automated expense management application accessible via mobile phone for employees.
Painless reimbursements for the employees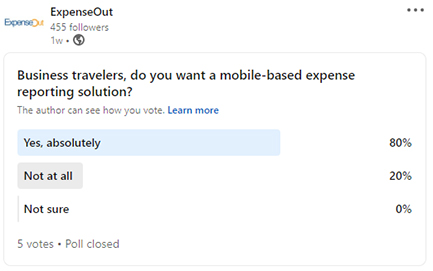 Results of our latest poll asking business travellers if they consider mobile expense reporting to be a necessity.
Employees typically get reimbursed only if they submit a physical copy of a receipt. These receipts are inconvenient to carry around, and they may further become damaged or illegible after a while. Even taking a photo of the receipt and mailing it comes with its own set of problems.
For instance, the finance team must manually check the authenticity of the receipt & whether it complies with travel policy, verify the amount requested, and approve the reimbursement, often after consulting with the management, which can take weeks.
With a mobile-based expense reimbursement solution, employees can snap photos of the receipt on the go, and the system takes care of the rest. The solution's OCR functionality allows it to read all the crucial parts of the receipt, such as the amount, vendor name, taxes, items/ services purchased, etc.
Once that is done, the solution checks if the amount complies with the company's travel and expense policy before processing the reimbursement request. All the finance team must do now is approve or deny the reimbursement request based on the automatic report generated by the solution. Companies can use such a system to reimburse employees in minutes instead of weeks.
Audit readiness with error-free reporting
When business travel expenses are managed via spreadsheets, errors may crop up. For instance, a small typo can turn a soft drink worth $5 into an expense that costs the company $50.
When employees use a mobile-based expense management solution to report expenses, there is zero chance of error. This is because the receipt details are captured automatically by the system and stored safely in a digital vault, where there is no chance of any alteration.
Thanks to this functionality, the finance team can guarantee there will be no surprises during audit season.
All your data is intact
There's no guarantee what will happen to the information you have stored away in email threads or spreadsheets. Making matters worse, employee travel and expense data stored this way are also hard to access.
Companies need a cloud-based expense management solution to end this inconvenience and ensure that all the receipts, the status of a reimbursement claim, policy violations, etc., are easily visible and accessible on a single platform.
With the help of a solution that can be accessed via mobile, companies can stay up to date on how their travel budget is being spent. Companies can provide access to this information based on employee designation.
Travel & expense policy compliance and fraud prevention
One of the most challenging aspects of managing expenses manually is ensuring policy compliance. Often, employees may end up spending money beyond their approved limit and claim reimbursement that is out of policy, leading to losses for the company.
Automatic policy compliance enforcement is the way to ensure compliance with your travel policy. When employees take a picture of the receipt, the system automatically flags out of policy expenses, preventing employees from making a claim.
However, if the company chooses, employees can claim reimbursement for out-of-policy expenses after stating a reason. The manager/ finance team can approve or deny the claim based on the reason mentioned.
Another hurdle in expense management is fraudulent claims, such as submitting an expense many times. The system automatically catches these instances and alerts the management of the suspicious activity.
Easy granting of per diem and cash advances
Companies often give out per diems or cash advances for their business travelers, so they don't have to spend out of pocket. But getting approval for these can be time-consuming, and there is unnecessary stress involved in following up repeatedly with various teams to ensure that the cash advances are granted before an employee takes off for a business trip.
However, things are different when you have an expense management solution. Employees can quickly raise requests for per diems and cash advances; if they are valid, the finance team and management can quickly approve the same.
Overall, there is far less time wasted on such a trivial matter.
Advanced and real-time reporting
No matter where the employee is, the manager can get real-time alerts on spending. Crucially, the management can view advanced reports on expenditures, such as teams that spend the most, employees who violate travel policy frequently, etc. Such detailed insights can be valuable not just for audits but also for managing employees' payroll.
Other than that, the real-time insights provided by a mobile-based expense management system can facilitate thoughtful spending. This is because receipts are hard to track, while every dollar spent can be viewed based on spending category, date, etc., in the app.
Conclusion
A mobile-based reporting solution can streamline your expense management process. Employees anywhere in the world can snap photos of their receipts with their phones and raise reimbursement requests in a few minutes.
Similarly, companies can verify these receipts, ensure 100% policy compliance, and process reimbursement claims in a few minutes rather than taking weeks. Additionally, mobile expense management makes sense for organizations that give out per diems/cash advances, as employees can quickly raise requests through a few clicks.
Sounds fascinating? Try ExpenseOut, the leading mobile-based expense reporting software, free for 14 days. Schedule a demo.